Corporate Secretary Think Tank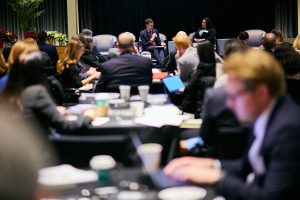 Taking place on the morning of the awards ceremony, the Corporate Secretary Think Tank – Best Practices is an invitation-only event exclusively for senior GRC professionals.
It is free to attend and our unique format enables participants to network extensively, discuss, debate and dissect best practices and topical issues in the corporate governance world.

Listen as seasoned GRC professionals discuss in detail their successful practices

Learn key take-aways that you can implement immediately in your own practice

Network with the best of the best in GRC
What makes our format so unique?
It is far removed from the traditional conference set-up as the event consists of a series of panel sessions followed by roundtable discussions on select GRC issues. These interactive sessions are an opportunity to share experiences with and learn from other top-rated corporate governance professionals. All discussions are confidential and none of the participants' comments are attributed. This allows attendees to talk freely and have frank, open discussions.
Please click here to register or to learn more about the event.