About the event
KEEPING UP WITH AN EVOLVING AGENDA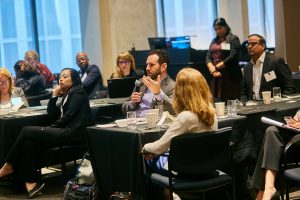 The events of the past year have shaken up both the way companies look at themselves and how investors see them. Investors have evolving expectations of how companies – and their boards – are approaching issues ranging from social and racial equity to operational imperatives, human capital and the growing sense of urgency surrounding climate change.
Governance teams have key roles to play both in ensuring that boards are aware of these changing expectations and in helping address them through engagement, disclosures and internal processes. This special virtual event provided insight and practical guidance on fulfilling these roles and meeting the challenges they presented in 2021.
---
AN INTERACTIVE, VIRTUAL EXPERIENCE
This forum is a best practice event enabling participants to network, discuss, debate and dissect topical issues and best practices in the corporate governance world.
Due to current restrictions, the event took place as a virtual experience using our bespoke, cutting-edge technology.
Our virtual event platform closely replicates attending in-person by facilitating interaction with speakers, one-to-one networking with fellow IR professionals, and group roundtable discussions. Going virtual helps you connect with a wider network from the comfort of your desk.
---
WHY ATTEND OUR VIRTUAL EVENTS?
  Timely event: Covid-19 had further demonstrated the importance of identifying emerging risks and prioritizing investment in governance, risk and controls. This event was perfectly positioned to help you take stock of the year-to-date, refocus and plan for 2021-2022
  Benchmarking: it was a great opportunity to evaluate where you stand in comparison to your peers, how other companies have managed and overcome similar challenges
  Unique format: far from a traditional webinar format, our virtual event platform enabled attendees to participate in virtual roundtable discussions with fellow GRC professionals
  Discover something new: we learned about new technologies, innovations, and services that are available to help to transform your governance strategy and make better decisions
  Network with the community: attendees met with general counsels, corporate secretaries and experts in the governance, risk and compliance community