About the event
The IR Magazine Forum – Small Cap is a best practice event on effective shareholder communications designed exclusively for CEOs, CFOs, IROs and advisors from small and micro-cap companies. Spanning multiple industries, the one-day virtual conference focused on the unique issues affecting small cap companies.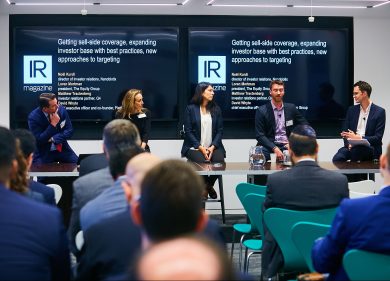 WHY ATTEND?
Timely event: Increasing sell-side coverage, managing volatility or getting the messaging right have always been a challenge for small companies. The economic fallout from Covid-19 means small caps are even more at risk when it comes to attracting the attention of investors and analysts in the coming months. With the year-end fast approaching, this event is perfectly positioned to help you take stock of the year-to-date, refocus and plan for 2020-2021
  Benchmarking: it is a great opportunity to evaluate where you stand in comparison to your peers, how other small cap companies have managed and overcome similar challenges
 Run lean: learn how to have a maximum strategic impact with limited resources – do more with less, learn how seasoned IR professionals prioritize their team
 Unique format: far from a traditional webinar format, our virtual event platform enables attendees to have one on one video chat and participate in virtual roundtable discussions with fellow IROs from small and micro-cap companies globally.
 Discover something new: learn about new technologies, innovations, and services that are available to help to transform your IR strategy, increase productivity and make better decisions
  Network with the community: meet with investors, analysts, experts, and peers
---
AN INTERACTIVE, VIRTUAL EXPERIENCE
In light of the situation surrounding Covid-19 and putting the safety of our attendees first, the IR Magazine Forum – Small Cap took place as a virtual experience.
Using the latest cutting edge technology available, our virtual event platform closely replicates being there in person with the chance to interact with speakers and have one-to-one networking in-between panel talks.
Going virtual connects our attendees to even more attendees, from the comfort of their desk.
---
NIRI IRC® CREDENTIAL

Holders of the NIRI IRC® credential can earn up to 4 professional development units (PDUs) per day. IRC-credentialed speakers may also earn PDUs. More information is available at www.niri.org/certification.