About the forum
Supporting companies as environmental and social actors
Prioritizing board risk oversight
The recent proxy season revealed that diversity and inclusion, risk management, ESG investor activism and human capital management are on the rise. Stakeholders are increasingly focusing on environmental issues and looking at business resiliency to potential challenges.
To evaluate implications for governance professionals and provide a platform to share best practices before year-end, the Corporate Secretary – US Forum is taking place on November 4 – a perfect time to plan for the year ahead.
Interactive discussions on the big questions facing GRC professionals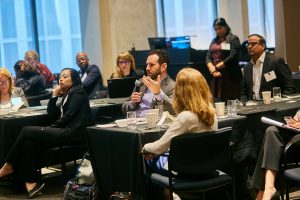 The forum will take place as a virtual event designed for GRC professionals. It is a best practice event
enabling participants to network, discuss, debate and dissect best practices and topical issues in the corporate governance world.
WHY ATTEND OUR VIRTUAL FORUMS?
 Timely event: Covid-19 has further demonstrated the importance of identifying emerging risks and prioritizing investment in governance, risk and controls. This event is perfectly positioned to help you take stock of the year-to-date, refocus and plan for 2021-2022
  Benchmarking: it is a great opportunity to evaluate where you stand in comparison to your peers, how other companies have managed and overcome similar challenges
  Unique format: far from a traditional webinar format, our virtual event platform enables attendees to have intimate discussions and participate in virtual roundtable debates with fellow GRC professionals
  Discover something new: learn about new technologies, innovations, and services that are available to help to transform your governance strategy, increase productivity and make better decisions
  Network with the community: meet with general counsels, corporate secretaries and experts in the governance, risk and compliance community
---
AN INTERACTIVE, VIRTUAL EXPERIENCE
Due to current restrictions, the event will take place as a virtual experience using our bespoke, cutting-edge technology.
Our virtual event platform closely replicates attending in-person by facilitating interaction with speakers, one-to-one networking with fellow governance professionals, and group roundtable discussions. Going virtual helps you connect with a wider network from the comfort of your desk.