About the event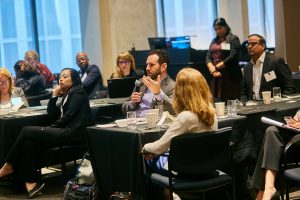 Interactive discussions on the big questions facing GRC professionals
The forum took place as a virtual event designed for GRC professionals. It is a best practice event enabling participants to network, discuss, debate and dissect best practices and topical issues in the corporate governance world.
WHY ATTEND OUR VIRTUAL FORUMS?
 Timely event: Covid-19 has further demonstrated the importance of identifying emerging risks and prioritizing investment in governance, risk and controls. With the year-end fast approaching, this event is perfectly positioned to help you take stock of the year-to-date, refocus and plan for 2020-2021
  Benchmarking: it is a great opportunity to evaluate where you stand in comparison to your peers, how other companies have managed and overcome similar challenges
  Unique format: far from a traditional webinar format, our virtual event platform enables attendees to have intimate discussions and participate in virtual roundtable debates with fellow GRC professionals
  Discover something new: learn about new technologies, innovations, and services that are available to help to transform your governance strategy, increase productivity and make better decisions
  Network with the community: meet with general counsels, corporate secretaries and experts in the governance, risk and compliance community
AN INTERACTIVE, VIRTUAL EXPERIENCE
In light of the situation surrounding Covid-19 and putting the safety of our attendees first, the Corporate Secretary Forum – US took place as a virtual experience.
Using the latest cutting edge technology available, our virtual event platform closely replicates being there in person with the chance to interact with speakers and have one-to-one networking in-between panel talks.
Going virtual connects our attendees to even more attendees, from the comfort of their desk.