About the event
The IR Magazine Forum & Awards – Small Cap US is a best practice event on effective shareholder communications designed exclusively for CEOs, CFOs, IROs and advisors from small and micro-cap companies. Spanning multiple industries, the one-day conference focuses on the unique issues affecting small cap companies.
We will also host a lunchtime awards ceremony specifically tailored to small cap companies. The awards categories offer companies the opportunity to nominate, free of charge, for aspects of IR including best investor engagement and best investor relations (by market cap; micro and small-cap). More details can be found below.
WHY ATTEND?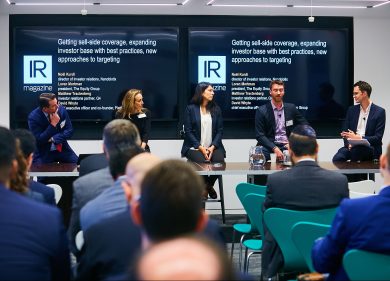 Timely event: with the year-end fast approaching, this event is perfectly positioned to help you take stock of the year-to-date, refocus and plan for 2020-2021
  Benchmarking: it is a great opportunity to evaluate where you stand in comparison to your peers, how other small cap companies have managed and overcome similar situations
 Run lean: learn how to have a maximum strategic impact with limited resources – do more with less, learn how seasoned IR professionals prioritize their team
 Unique format: our format enables participants to network extensively, discuss, debate and dissect topical issues
 Discover something new: learn about new technologies, innovations, and services that are available to help to transform your IR strategy, increase productivity and make better decisions
  Network with the community: meet with investors, analysts, experts, and peers

NIRI IRC® CREDENTIAL

Holders of the NIRI IRC® credential can earn up to 4 professional development units (PDUs) per day. IRC-credentialed speakers may also earn PDUs. More information is available at www.niri.org/certification.